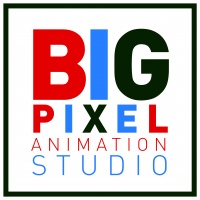 Bigpixel Animationstudio
http://www.bigpixel.nl/
Bigpixel BV was founded in 2012 when the two animation studios Studiotto and PlasticReality merged to offer a diverse and complementary portfolio of animation expertise.
Bigpixels founders Alexander Otto and Jeroen Hoekstra immediately secured a 30 episode childrens series for RTL 8 in the Netherlands. Jokie is watched every morning by the nations young and adoring viewers.
In addition, Bigpixel also creates promos and trailers for numerous international TV producers and distributers. These entirely 3D animated shorts are able to give Broadcasters the look and feel of a show, how the game mechanics work and flow, without the need for making a full studio pilot.These services include animated TV series, commercials, feature films, corporate presentations, print ads, video clips, and interactive media.
Whether it's a children's animation series for Telekids, a trailer for a new Sony gameshow or a TV advert, Bigpixel delivers exceptional content worldwide.
Animatie
Showreel van Bigpixel Animationstudio