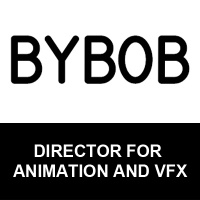 Bybob
http://www.bybob.nl
A freelance director with a lot of producer experience.
I specialise in animation & visual effects for film, television and experiences
More than 15 years of experience in commercials, television, also film, virtual reality and game experience. I am also a professor at Utrecht school of the arts (HKU) of the 3D animation department I co-founded.
Brands I have worked on:
MTV, Bol.com, Vodafone, Nike, Tom Tom, Volvo, Mitsubishi, Bacardi, KLM, ABN AMRO, Nederland 3, Nuon, KRO, Zappelin, Centraal beheer, Dutch railway museum, Mitsubishi, Bacardi, Aviko, Ziggo, Lays, LU, T-Mobile, Marktplaats, Robeco, Cote D'or, Albert Heijn, Philips, Continental.
Agencies & Productions companies I have worked with and for:
Etcetera, TWBA, Caviar, FHV BBDO, Crabsalad, Like Friends, EuroRSCG, Cape Rock, Minivegas, Hazzazah, 100% Hallal, Brand New Telly, Born05, Lemz, Avidrome, First Floor Features, Red Urban, CCCP, Chello Media, They, Lukkien, Nike Brand design EMEA, Publicis, Habbekrats, DDB & Tribal.
Director, Producer, Animation, Visual Effect, Television