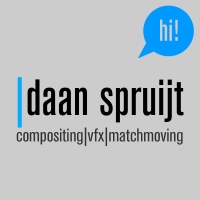 Daan Spruijt
http://www.daanspruijt.nl/
I've been a professional 2D/3D artist in the VFX industry since 2002, working both as a production artist and supervisor. I'm specialized in composting and matchmoving.
Besides my specialization, I have a great passion about working with everything that is visual (from photography to film). Furthermore I find it a challenge to invent ways to do things better and niftier every time again. And yes, I can work well alone and in a team of creatives!
My main tools are Nuke(-Studio), Fusion, Syntheyes and Photoshop and I'm familiar with most platforms (Mac os, Windows and different Linux flavors).
Feel free to contact me; I'm always interested in new opportunities!
Compositing, VFX, Matchmoving